After an ignominious start, losing 9-1 in our first match, SGVCC won three of its last four matches to finish 4-4 over 8 rounds. Matches were played on Saturdays with a game 15|2 sec t/c. The League was sponsored by Chess.com and many thanks go to our own Laura Nyström for serving as our club administrator.
In Round 8 we faced the Huntsville Club of Alabama. The city of Huntsville is nicknamed "Rocket City" for its NASA facility that employs over 6,000 people. And it looked like they were trying to send us into orbit early as we were down after the first round of games. But two wins in round two and a half-point forfeit gave us the victory.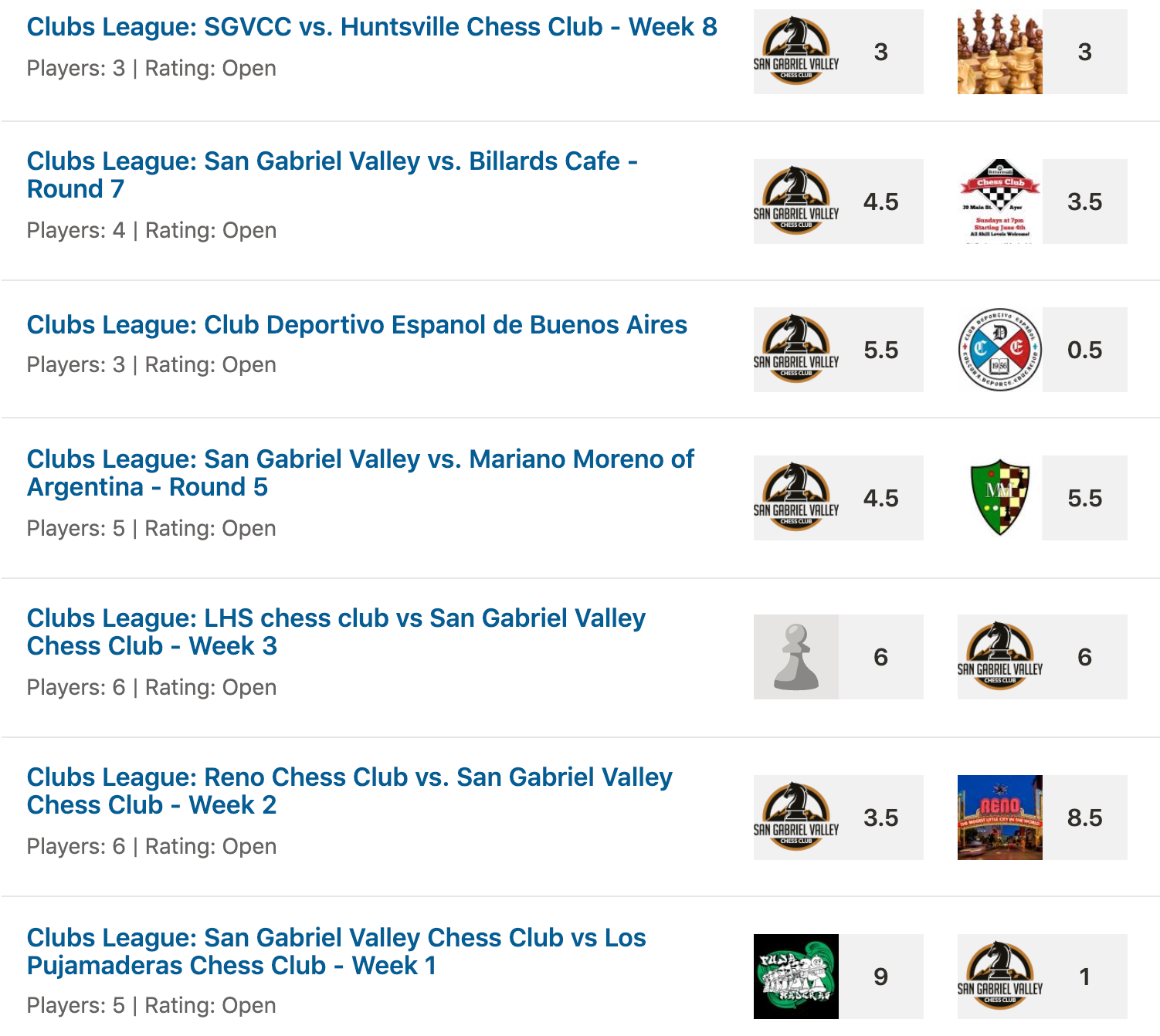 Like traditional in-person team events there was a lot of excitement each match. It all comes down to how the team does and so even if you lost your own games you could cheer on your teammates. The Chess.com playing site was ideal as you could see other games in real time and we had some amazing comeback games in the last round that had us fixated on our screens!
The only downside we ran into were teams not having an even number of players, which meant some people did not always get a game. We apologize if this happened to you. It was never clear how many players would show for each team until the time of the event, so hopefully that improves.
To see the full match results, including any game played during the match, visit: https://www.chess.com/clubs/matches/live/san-gabriel-valley-chess-club
Thanks as well to all our members who participated! It was great fun meeting people from other clubs and checking out their club websites. Keep watching for the next rapid play Clubs League.
Featured Game
Standings After Round 8 (Final Round)
| | | | | | | | | | | | | |
| --- | --- | --- | --- | --- | --- | --- | --- | --- | --- | --- | --- | --- |
| # | Club | R1 | R2 | R3 | R4 | R5 | R6 | R7 | R8 | Pts | TB1 | Place |
| 1 | Chess Club Zebra | W45 | W17 | W2 | W10 | W3 | W7 | W9 | W8 | 8.0 | 40 | 1st |
| 2 | GROP Chess Club | W49 | W51 | L1 | W14 | W10 | W4 | W3 | W9 | 7.0 | 40 | 2nd |
| 3 | Exeter Chess Club | W39 | W35 | W11 | W40 | L1 | W28 | L2 | W7 | 6.0 | 39.5 | 3rd |
| 4 | Chess Long Island | W8 | L15 | W29 | W19 | W21 | L2 | W20 | W12 | 6.0 | 38 | 4th |
| 5 | Club Scacchi Cesena | W13 | W16 | L40 | W18 | W11 | L9 | W17 | W10 | 6.0 | 38 | 5th |
| 6 | Galeria de Xadrez Borba Gato | L7 | L27 | W34 | W30 | W36 | W21 | W14 | W15 | 6.0 | 31.5 | 6th |
| 7 | Gill Saint Bernard's Knights | W6 | W25 | W30 | W15 | W12 | L1 | D8 | L3 | 5.5 | 42 | 7th |
| 8 | Cercle D'Echecs De Hull | L4 | W23 | W25 | W36 | W20 | W12 | D7 | L1 | 5.5 | 39 | 8th |
| 9 | Chess Projects Club Milano | H— | W24 | W51 | W17 | W40 | W5 | L1 | L2 | 5.5 | 37 | 9th |
| 10 | Noble Park Chess Club | W33 | W14 | W28 | L1 | L2 | W18 | W32 | L5 | 5.0 | 41 | 10th |
| 11 | Stockport Chess Club | W26 | W29 | L3 | W35 | L5 | W16 | W15 | L13 | 5.0 | 36.5 | |
| 12 | The Secret Dark Knight Society | W34 | W42 | W20 | W46 | L7 | L8 | W25 | L4 | 5.0 | 36 | |
| 13 | Club Atletismo Huesca | L5 | W39 | L24 | W29 | L16 | W33 | W31 | W11 | 5.0 | 33 | |
| 14 | TJ Valasska Bystrice – Sachy | W55 | L10 | W16 | L2 | W24 | W37 | L6 | X32 | 5.0 | 31 | |
| 15 | Saint Petersburg CC Florida | W44 | W4 | W46 | L7 | D42 | W19 | L11 | L6 | 4.5 | 37 | |
| 16 | TJ Bohemians Praha | W50 | L5 | L14 | W26 | W13 | L11 | W35 | D24 | 4.5 | 35 | |
| 17 | Aatos Chess Club | W52 | L1 | W33 | L9 | W39 | X40 | L5 | D18 | 4.5 | 33 | |
| 18 | SK Povazske Podhradie | W47 | L40 | W48 | L5 | W35 | L10 | W28 | D17 | 4.5 | 33 | |
| 19 | Burlington Ambush Chess Club | W36 | L46 | W27 | L4 | W23 | L15 | W38 | D20 | 4.5 | 32 | |
| 20 | Los Pujamaderas Chess Club | W22 | W21 | L12 | W44 | L8 | X42 | L4 | D19 | 4.5 | 31 | |
| 21 | Los Angeles Chess Fortress | W41 | L20 | W53 | B— | L4 | L6 | W23 | D25 | 4.5 | 29.5 | |
| 22 | San Gabriel Valley Chess Club | L20 | L44 | D41 | W53 | L37 | W30 | W36 | W38 | 4.5 | 24 | |
| 23 | Columbia SC Chess Club | L25 | L8 | W38 | W27 | L19 | W43 | L21 | W37 | 4.0 | 29 | |
| 24 | Airbus Chess Club | L51 | L9 | W13 | W49 | L14 | H— | W29 | D16 | 4.0 | 28 | |
| 25 | ChessEmpire [Case Western Univ.] | W23 | L7 | L8 | W37 | X46 | H— | L12 | D21 | 4.0 | 27 | |
| 26 | Eagle and Child Chess | L11 | D43 | D31 | L16 | W52 | L32 | W45 | W28 | 4.0 | 26.5 | |
| 27 | Aurora CC 2012 | L46 | W6 | L19 | L23 | W30 | L35 | D34 | W41 | 3.5 | 31 | |
| 28 | Schachclub Hochstadt a.d. Aisch | W48 | H— | L10 | W50 | W32 | L3 | L18 | L26 | 3.5 | 30.5 | |
| 29 | Badgers Brook Chess Club | W43 | L11 | L4 | L13 | D31 | W49 | L24 | W35 | 3.5 | 30 | |
| 30 | Club Depor. Esp. de Buenos Aires | D37 | W38 | L7 | L6 | L27 | L22 | W44 | W43 | 3.5 | 29 | |
| 31 | Wimbledon Chess Club | L35 | W49 | D26 | L32 | D29 | W39 | L13 | D33 | 3.5 | 27.5 | |
| 32 | Circolo Scacchistico Forlivese | L40 | W52 | D50 | W31 | L28 | W26 | L10 | F14 | 3.5 | 26.5 | |
| 33 | Hobart Chess Club | L10 | W45 | L17 | L41 | W44 | L13 | W49 | D31 | 3.5 | 25 | |
| 34 | Villages Chess Club of Florida | L12 | L36 | L6 | L38 | B— | W44 | D27 | W45 | 3.5 | 23.5 | |
| 35 | Warley Quinborne | W31 | L3 | W43 | L11 | L18 | W27 | L16 | L29 | 3.0 | 32.5 | |
| 36 | Billiards Cafe Chess Club | L19 | W34 | W37 | L8 | L6 | L38 | L22 | W49 | 3.0 | 31 | |
| 37 | Club Mariano Moreno | D30 | W54 | L36 | L25 | W22 | L14 | D41 | L23 | 3.0 | 29.5 | |
| 38 | Huntsville Chess Club | D54 | L30 | L23 | W34 | D41 | W36 | L19 | L22 | 3.0 | 29 | |
| 39 | Echiquier du Grand Ales | L3 | L13 | W52 | W47 | L17 | L31 | D43 | H— | 3.0 | 26.5 | |
| 40 | Club Ajedrez Puerta Elvira | W32 | W18 | W5 | L3 | L9 | F17 | — | — | 3.0 | 26 | |
| 41 | Lincoln High School Chess Club | L21 | L53 | D22 | W33 | D38 | H— | D37 | L27 | 3.0 | 24.5 | |
| 42 | Coachella Chess Club | W53 | L12 | W44 | H— | D15 | F20 | — | — | 3.0 | 14 | |
| 43 | Lycee Francais D'Agadir CC | L29 | D26 | L35 | D45 | X50 | L23 | D39 | L30 | 2.5 | 22.5 | |
| 44 | Reno Chess Club | L15 | W22 | L42 | L20 | L33 | L34 | L30 | B— | 2.0 | 27.5 | |
| 45 | ShahmatKG | L1 | L33 | L47 | D43 | D49 | X52 | L26 | L34 | 2.0 | 25.5 | |
| 46 | IHOP Chess Club | W27 | W19 | L15 | L12 | F25 | — | — | — | 2.0 | 17.5 | |
| 47 | SK Ceska Lipa | L18 | L48 | W45 | L39 | U— | U— | W55 | — | 2.0 | 14 | |
| 48 | Schaakclub't Ros Dendermonde | L28 | W47 | L18 | X51 | — | — | — | — | 2.0 | 11.5 | |
| 49 | Hermanus Chess Club | L2 | L31 | W55 | L24 | D45 | L29 | L33 | L36 | 1.5 | 27.5 | |
| 50 | Val Parisis Echecs- Franconville | L16 | W55 | D32 | L28 | F43 | — | — | — | 1.5 | 13.5 | |
| 51 | A.D. Scacchi Foggia | W24 | L2 | L9 | F48 | — | — | — | — | 1.0 | 16.5 | |
| 52 | Phoenix Chess Club | L17 | L32 | L39 | W55 | L26 | F45 | — | — | 1.0 | 16.5 | |
| 53 | Highland High School Chess Club | L42 | W41 | L21 | L22 | U— | — | — | — | 1.0 | 16 | |
| 54 | Jacksonville Chess Club NC | D38 | L37 | — | — | — | — | — | — | 0.5 | 6 | |
| 55 | Gazmag Sakk Szakosztaly | L14 | L50 | L49 | L52 | U— | U— | L47 | — | 0.0 | 15.5 | |